Chanel Harness for Dogs: Elevate Your Pet's Style and Safety
Discover Luxury with Chanel Harness for Dogs.Unleash the epitome of style and safety for your furry companion with our exclusive Chanel-inspired dog harnesses. Crafted with meticulous attention to detail, these harnesses not only redefine pet fashion but also prioritize the utmost comfort and security for your beloved canine friend.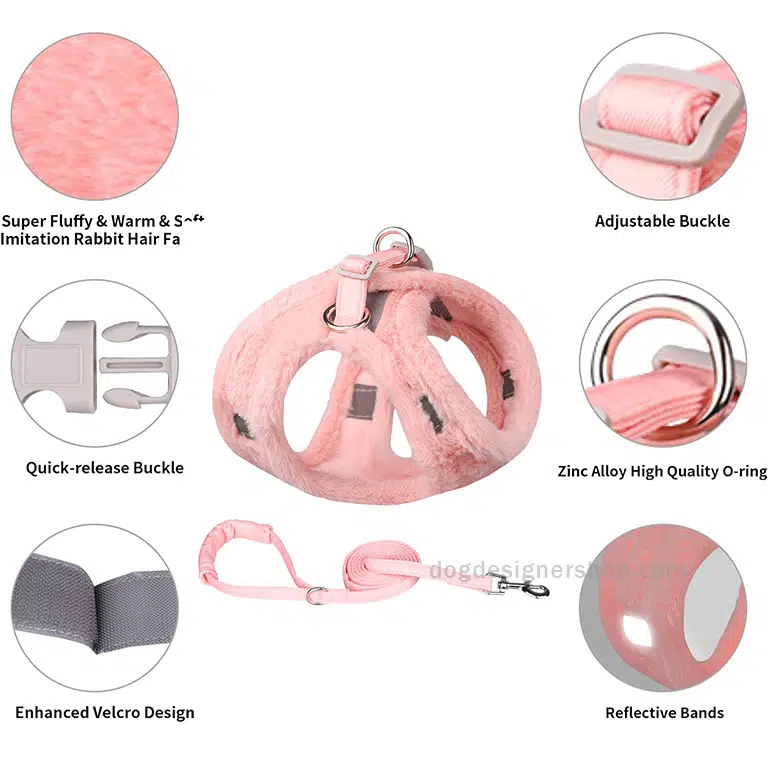 Stylish Comfort and Superior Craftsmanship
Our Chanel harnesses for dogs transcend traditional pet accessories, seamlessly blending luxury with functionality. The exquisite design mirrors the timeless elegance of Chanel, featuring soft imitation rabbit hair and cotton for a plush feel. Your pet will experience the epitome of comfort during walks, especially in the cooler months of autumn and winter.
Perfect Fit, No Compromises
Unlike other dog harnesses, our Chanel-inspired creations emphasize the importance of proper sizing. We understand that every dog is unique, and our sizing ranges from XXXS to XL cater to small, medium, and large breed dogs. Avoid the pitfalls of incorrect sizing by measuring your pet's chest and neck girth, referring to our comprehensive Size Guide and chart for the perfect fit. When in doubt, always opt for one size up for optimal comfort.
Safety Redefined with Triple Security Features
Ensuring your pet's safety is our top priority. Our harnesses incorporate a vest-style design that distributes pressure evenly across the shoulders and chest, preventing the risk of suffocation or choking. The combination of hook and loop fastener, buckle, and D-rings work harmoniously to provide triple security, giving you peace of mind during your walks.
Reflective Design for Nighttime Visibility
Enhance your dog's safety during nighttime strolls with our reflective harness design. Four premium reflective bands on the sides make your pet visible even in low-light conditions, reducing the risk of accidents. Walk confidently knowing that your furry friend is easily seen, thanks to our thoughtfully incorporated safety features.
Effortless Wear for Both You and Your Pet
Putting on and taking off the harness is a breeze with our user-friendly design. The combination of Velcro and O-ring buckle ensures a snug fit, minimizing the chances of escape. An additional O-ring provides convenience for hanging dog poop bags or water bottles, making your walks more enjoyable. The step-in design allows you to effortlessly slip the harness on and off your pup in seconds, facilitating a hassle-free experience for both you and your pet.
All-Inclusive Package for Convenience
Our Chanel harness for dogs comes complete with a matching leash, solving your pet's travel needs in one elegant package. Say goodbye to the hassle of finding a separate leash that complements the harness. Should you encounter any issues upon receiving your Chanel-inspired dog harness, our dedicated customer service team is available 24/7 to address your concerns promptly.
Elevate your dog's style and safety with our Chanel-inspired harnesses – a perfect blend of luxury, comfort, and security. Walks will never be the same again as you and your furry friend make a fashion statement that turns heads and ensures a safe and enjoyable outing.